New BOB FOSSE'S DANCIN' Dazzles and Delivers Sparkling Tribute to the Old Globe Theater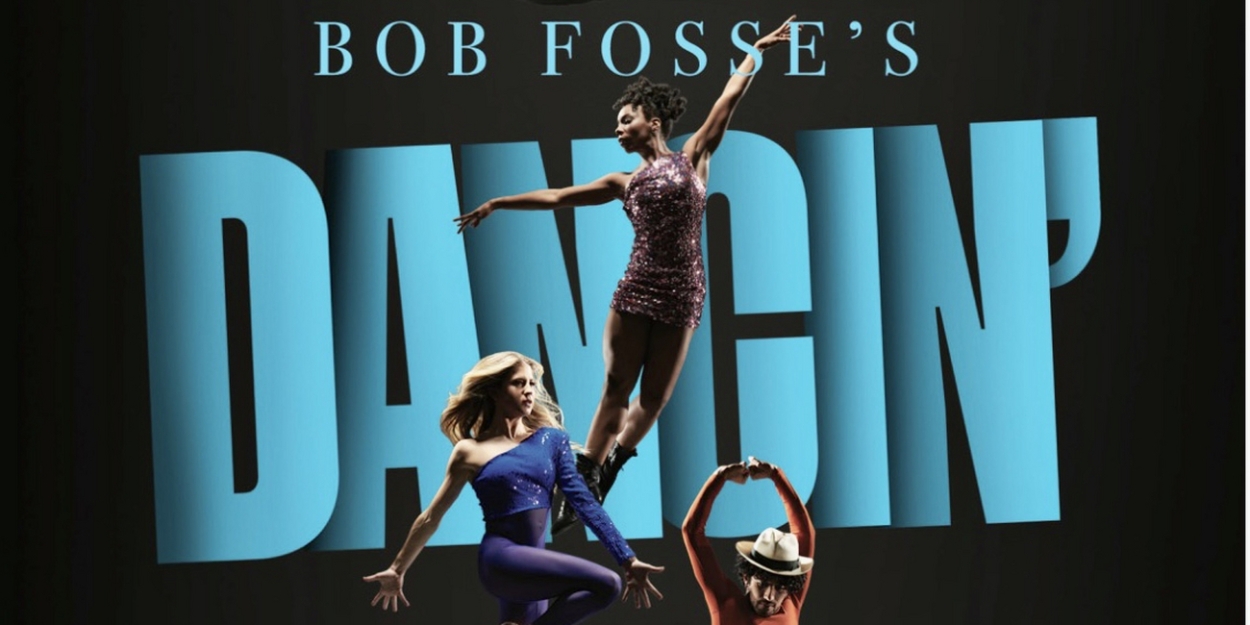 What follows is a series of dance pieces set to music and rhythms using only percussion instruments. Iona Alfonso handles the cheeky intro with a ton of pizzazz, explaining that the dancers will become instruments in these next four pieces. Each section is a different style of dance, using different musical instruments with exotic sounds. From a fluid trio of ladies hitting beautiful ballet lines to the unique ("ding") sound of a triangle and claves, a trio of men bouncing, spiking and jumping to reverberating waah-waah guitar beats, with disco bells, tambourine, cymbals, a snare drum, an electric piano and tam-tams; a Calypso group number accompanied by conga, bongo, timpani, Cabasa, a Vibra slap, finger cymbals and a whole bunch of Cuica, and finally, a virtuoso solo by Ron Todorowski on an unusual composition of Edgar Varese, "Ionization", featuring thirteen percussionists, including the sounds of sirens, tom-toms, bass drum, gongs, Chinese blocks, slap sticks, triangle, crash symbols , castanets, a snare drum, a tambourine, an anvil, chimes, a piano, a police siren, bells and bongos, allowing many difficult jumps, pirouettes and syncopated combinations to associate with all these sounds.
Winnetka's Big Noise is a catchy, driving trio of dancers, tightly glued together, moving as one, bass-tongued, sometimes slinky-like, making eccentric moves as they rush forward back from stage left to stage right, as if blown there by a great gust of wind. Mattie Love stood out in this number, emphasizing her movements heavily, although I would have liked to see it tighter and cleaner overall.
So far, all numbers are from the original Dancin' repertoire." The next section, Big City Mime, was in the original show, but cut before it opened on Broadway. In resurrecting it here, Wayne fleshed out the premise of a guy hitting the stage in the Big Apple to include some of Mr. Fosse's most famous production numbers. "Big Spender", from "Sweet Charity", performed with sumptuousness by Ioana Alfonso, Dylis Croman, Mattie Love, Khori Michelle Petinaud and Ida Saki; "Rich Man's Frug" or "Pompeii Club", also from "Sweet Charity", always a Fosse favorite; a scorching dance section on "I Gotcha," from the Emmy-winning Bob special for "Liza with a Z," performed by Yani Marin, Karli Dinardo, and Kolton Krouse in fabulous green sequined outfits, and a series other vignettes in different locations around New York, giving dancers the chance to be in character and interact accordingly, while feeding on other Fosse favorites like the "Snake Dance", from the film made by Stanley Donen "The Little Prince", which Yeman Brown superbly emulates, evoking Bob Fosse's slippery performance as "the snake in the grass". Others like "Let Me Entertain You," another high-energy group number filled with style and Fosse gyrations, and "Spring Chicken," performed by Kolton Krause, adding that bawdy, risque vaudeville flavor to the lyrics. and stripper moves, adorned in a black leather corset, garter belt and thigh-high boots, working that booty to the max, Fosse-Style.
One of the two most popular production numbers from the original Dancin', "Dancin' Man", closes the first act. A stylized tribute Bob choreographed to honor Fred Astaire, it's a timeless masterpiece of intricate syncopated isolations in innovative formations, mesmerizing audiences and thrilling performers to sing and dance to it. It's that cool, clean, nice number where the reverence for Bob's choreography shines through to the last flick of the wrist.
And BAM! Act II hits you with the other standout production number, "Benny's Number", titled "Sing, Sing, Sing", written by Louis Prima. An unforgettable gem of a production number where each section continues to build on the last, with incredibly flashy '40s-style boogies and jitterbugs to that Benny Goodman big band sound, created by onstage musicians who take turns soloing, accompanied by stunning dance solos, duos and trios, the musicians showcasing the brilliant choreography and the dancers in sync with the incredible solo musicians. The trombone solo is performed by a satiny, sexy Khori Michelle Pettinaud carried seductively by her two men, Yemen Brown and Ron Todorowski. The trumpet solo has an unexpected twist, with Kolton Krouse demanding and possessing the stage in a tour de force of audaciously high beats mixed with seductive, strong movement and major diva attitude. A tap duo by Jacob Guzman and Manuel Herrera on solo piano is the only moment this brassy, ​​swinging arrangement calms down. It's a very subtle, muted but intense, very precise tapping number that creates a powerful and calm mood and aura. There were a few missed clicks and glitches in the performance, and the piano itself seemed a little too loud compared to the tap sounds, but those are picayune notes that will no doubt fade away as the show progresses. These are the type of dancers who will continue to hone and perfect their performance every time they put on the show.
The outdated lyrics of Female Star Spot's song "Here You Come Again" get a revamp, going from a splashy display of four single women desperately hung up on the same guy, to more of a condescending roast of lyrics by three drunken divas and a drunken queen. Iona Alfonso once again relates the situation with animation, wanting to prove in a very gregarious way that women do not need a man to flourish.
As the number ends and their stools are carried away, a short but oh so charming duet unfolds behind a transparent scrim, with Jacob Guzman and Mattie Love in pale pink outfits, performing a "Romantic Fantasy" containing choice Pit moves .
Joint Endeavors consists of three very sensual pas de deux, one blending into the next, performed first by two women: Dylis Croman, a striking and vivacious redhead, and Ida Saki, who has the technique, placement and the cleanest line, and is such a pleasure to watch it move. Then two men, Jovan Dansberry and Kolton Krause, who both have a strong and unique stage presence, followed by Ioana Alfonso and Manuel Herrera; all the bodies intertwined on the song "If It Feels Good Let It Ride".
The following segment was given new dialogue, direction, with many of the original numbers missing and the perspective and viewpoints having changed, it is now called "America?" The question mark is the new part of the title. The beginning and end are dialogues, quoting leaders and presidents, presented to the audience by the cast, all talking about values, unity and peace, or the lack thereof. Music videos from eras in history scroll across the big screen behind them, Jimi Hendrix's "Star Spangled Banner" moaning loudly, echoing… In between, patriotic songs and solo or small group dance marches . Solos of note are "When Johnny Comes Marching Home," beautifully and fervently by Dylis Croman, "Rally "Round the Flag," a superb ballet tour by the awe-inspiring Ida Saki, and an absolutely outstanding rendition of "The Stars and Stripes Forever", made by Peter John Chursin; all executed super clean and sharp.
The closing segment of this revamped production, and to deliberately further showcase Bob's work after "Dancin", is taken from his last Broadway musical, "The Big Deal", beginning with an "interview" filmed on scene with our main character, Charlie Lightning Waters (Yeman Brown), a very Bob Fosse character, as you can guess by the answers he gives to the interviewer, the exotic and sumptuous Lilly (Khori Michelle Pettinaud). is just a bowl of cherries", is moving and captivating. Manuel Herrera, as Kokomo, has now established himself as the narrator, leader or manager who knows the score-like character in all other production numbers of the series. and it becomes more and more endearing each time. "Ain't We Got Fun" is exactly that, a joyful exclamation of dance expression. And finally, one of the most invigorating numbers and more energetic, who in vaudeville says "Save the best for last", ends the segment, and a fiery Tony d'Alelio as Moses, who seems to gain even more enthusiasm and energy towards the end of the show really kills him in "Beat Me Daddy, Eight to the Bar" as the whole company ends the number on pretty high energy.
Yani Marin steps out and addresses the audience for the epilogue, wrapping things up and reminding us who has been honored and emulated over the past few hours. We see silhouettes of dancers behind a canvas… "A Dancin' Man… Rhythm and Rhyme…"
Yeah. We were Razzle-Dazzle.