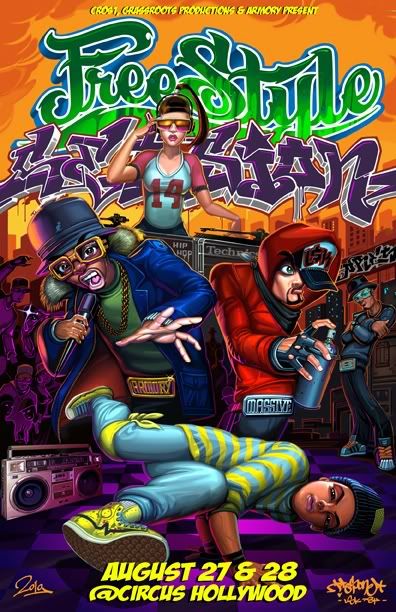 August 27th-28th
Where-Circus Hollywood 6655 Santa Monica Blvd
3 vs 3 Bboy/Bgirl Battles
1st Place-$15,000 Cash & Prizes
2nd Place-$3,000 Cash & Prizes
3rd & 4th-Prize Packs
Cash & Prizes for Top 4 Crews TBA
Judges
Poe One-Stylelements/RSF/Zulu
Wicket-Renegades/Footwork Fanatics
Paulskee-Mighty 4/Rock Force Crew
1 vs 1 Poppin Battle for $1000 cash & prizes
1 vs 1 Lockin Battle $500 cash & prizes
judges, dj's and hosts to be announced.
Headed by Bionic Man MGF
to enter the poppin or lockin battle email
Jsbayani@gmail.com
Dj's Element, Abel, Lean Rock, Charlie Rock, Soulo, Kaistar and more TBA
also special Performances, Art Exhibitions, Hip Hop Vendors and more....
Official Qualifier Events....
7-16-Freestyle Session Orlando Florida
for more info
http://www.thebboyspot.com​/forum/f8...ida-t3621.html
7-16-FSS Singapore
3 on 3 Sign Ups for Battle in August
to sign up email
iamcros1@aol.com
1. LabRats-Virigina
2. Red Eye Jedis-Hawaii
3. DF Zulu Breakers-Sao Paulo, Brazil
4. FSS Florida
5. THE FREAK SHOW - Oceanside CA.
6. Calamities - San Diego, CA
7. Battleholex - LA/Scotland
8. TruRoots - Salem, Oregon
9. Bboy Alliance - Las Vegas, NV
10. Jinjo - Seoul, Korea
11. Havikoro - Houston, TX
12. Unique Styles Crew - Orlando, FL
13. The Squadron - USA
14. Termites Crew - Stockton, CA
If you would like to vend at Freestyle Session XIV please email Tim Corbin at
fssxiv.vending@gmail.com
Tickets now on sale at GrooveTickets.com
http://fla.vor.us/1100711-​FREESTYLE...t-27-2011.html
*****$2 from each ticket sold will go to Steelo to help in his cause information is below...If you do not know Steelo suffered a ruptured brain aneurysm which caused him to get surgery. He currently is recovering but needs help being that dancing is what he did to support himself and his family.
IF YOU CANNOT ATTEND BUT WOULD LIKE TO SEND CARDS, GIFT CARDS, OR CHECKS PLEASE SEND TO:
Penelope Vazquez
PO Box 2249, Toluca Lake, Ca 91610
OR PAYPAL:
For monetary gifts through paypal please go to paypal.com and click on "send money" and in the "to" use email address:
steelo444@gmail.com
.