Breakin 'Convention, Sadler's Wells, Dance Review:' Adaptable, Amazing and Delicious'
Jonzi D – master of ceremonies, dancer, artist, poet and director – as always starts the evening with a few right words: "The fabric of society is torn, too much tension, it is time for new ideas to be born. Breakin 'Convention and off we go!
No matter what is thrown at the original hip-hop festival, it fits. From restrictive lockdown rules that forced the entire event into a digital incarnation last year, to the current lighter rules that require constant stage cleaning between acts.
What does Breakin 'Convention do? Creates the Next Day Delivery initiative where the animators and choreographers create a show in 24 hours with the stimulus "condition of underlying wealth". This collaboration is shown between acts on a top-down screen – inspired!
But enough praise, let's get into the meaty center of the beef patties – sadly not served this year in the foyer due to the continued destructive effects of Covid snacks.
The evening is launched by WAR. Nathaniel Williams' choreography is lively, young and energetic. We are not regular is a first for the company. While the 14-person performance is very boisterous and energetic, the actualization is a bit sloppy, with a few spacing errors and a dancer leaving the stage (thankfully only supporting injured pride).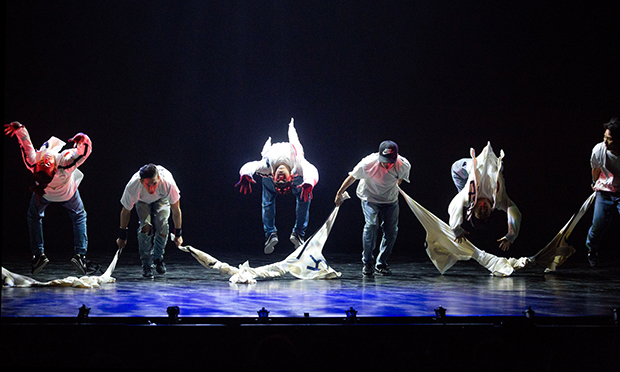 The screen goes down and the Berkavitch and Si Rawlinson film begins. Entirely geared towards zooming and video calling, the smart homework jokes are contrasted with a rap around the saying "Eat the rich". Painfully poignant in our new world of digital inequality.
Next is Antonio Bukhar, choreographer and solo performer and master of krump style, as well as athletic breakdance. The inventive use of a light box brings new levels to this piece, boosting Bukhar's confidence.
Screen down again and the film by Sun Kim and Surid (Gas) Lighting sparkles in life. Sleek, domestic, and heavily focused on sanity, this piece is a delicate blend of simple (yet effective) choreography, yellowish light, and lyrics.
AWA gives a fiery performance choreographed by Jonathan Baron. Called Blindfolded, the dancers were shockingly – you guessed it – blindfolded. The group work is awesome (keeping the training blind is no easy task) and the underlying message is heartwarming.
Screen down, now for wordmaker Ken Master and choreographer Rob Anderson's surreal film featuring a dancing alien created by a bedsheet and Master's' 90s-style bouncy rap. Weird, silly, but somewhat serious, this is a highlight of the Next Day Delivery project.
Another success is that of brothers Anthony and Kel Matsena with their play Too much, too little. A street film, in the dark and lively alleys of our beautiful city. Personal, wild, both joyful and disconcerting.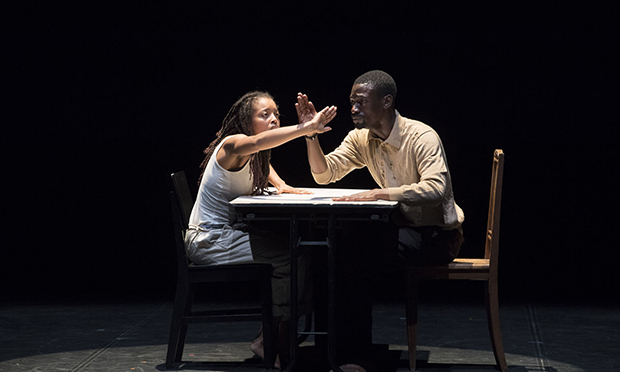 As the screen goes up, we are entitled to Gemma Hoddy presents… Betty's Blues. Boy Blue is a regular at Breakin 'Convention, and this year Gemma Hoddy (a company veteran) has some talent to fill the place. Four young women, dressed in various seductive outfits, play with the archetypes of the sexy woman. A memorable phrase is "I'm not just my ass". Hoddy and Abdessamad Hammadou's choreography has musical theater influences, mingling this with a jazzy and pop soundtrack. It's a clever reinvention of space and a humorous approach to sensuality and femininity.
While the intermission is a bit of a sad affair (drinks then straight back to our seats), we are entertained with various movies throughout. However, it's a shame to miss out on that hard work if you need the toilet or a big old gin and tonic (not to mention names). We want to get our bodies back is played again and amazes as much as the first time I saw it at the festival last year. Jessica Care Moore's poem is manifested by three dancers in three different locations. Created on lockdown with help from Jonzi D and Sadler's Wells, this eulogy of the slain, oppressed, and abused black women in history is epic in its anger and breath.
Michael 'Bagsy' Oladele begins second act, with his play Abandonment. This imaginative use of this piece of live percussion and brilliant purple cover to reinvent the male form is refreshing.
Spoken Movement put on the next physical and one of the most emotional piece, titled Family honor. So simple, just Kwame Asafo-Adjei and Catrina Nisbet were sitting at a table under a spotlight, having the kind of argument families always have (just through dancing). Exploring the cultural taboos of Ghanaian culture, the piece resonates through societies and coffee tables.
Finally, Patience J burst onto the stage. The uplifting and energetic exploration of various forms of African dance features colorful costumes and amazing physical abilities. The 25 dancers are filled with joy as their bodies frolic in the space showing so much life and passion.
As always, the festival amazes and delights everyone. I gush and babble because of the festival's continued dedication to young people, talent, and giving a voice to those who are often overlooked. As we struggle to come out of this crisis, I hope the festival gets better and better and continues to do what it does best – breaking convention.
Termination agreement took place July 1-4 at Sadler's Wells Theater.