Brian Kelly takes part in viral dance challenge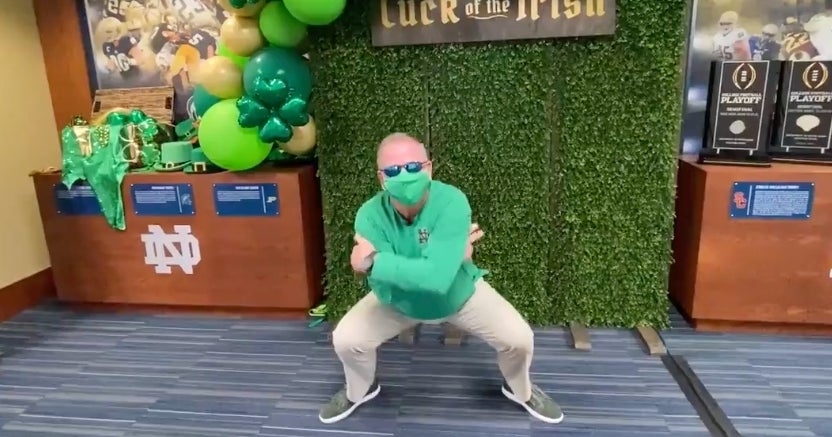 Riding social media trends, Notre Dame football staff celebrated St. Patrick's Day on Wednesday with a well-known dance challenge from social media app TikTok. Notre-Dame Head Football Coach Brian kelly had fun himself, then went viral on Twitter for his moves.
Kelly first posted a video coaches from Notre Dame participating in TikTok's "Ready to Go Challenge", dancing at various locations on the school campus. Security Shaun Crawford then called Kelly, saying he also had to share his dance moves. That's exactly what Kelly did, saying he never backs down from a challenge.
You can see Kelly's photo on the dance moves below. Fans couldn't compliment – or criticize – Kelly for her dance moves, however, as the tweet could only be answered if Kelly was following that person.
I never back down from a challenge, @ ShaunCrawf20. ??#POT OF GOLD https://t.co/B3z3YI2JBK pic.twitter.com/skbusm8OiJ

– Brian Kelly (@CoachBrianKelly) March 17, 2021
Kelly's movements may not have been the smoothest, but with the confidence that Kelly has after last season, he's probably not fazed by it. In 2020, Kelly led the Fighting Irish to a 10-2 record and an appearance in the CCA Championship game and the college football playoff semi-final. The Fighting Irish lost that game to Alabama, ending their season.
The land is planted! Build a support pool to compete against friends or play solo for a chance to win an all-new Nissan Rogue and a college basketball dream trip. Get in on the action today.
Notre Dame was a member of ACC this year due to the odd timeline of the COVID-19 pandemic. But the Fighting Irish are not expected to return to the league in 2021.