DANCE REVIEW: Ronald K. Brown/EVIDENCE's 'Equality of Night and Day' is a 'quietly stunning work of art' | Berkshire landscapes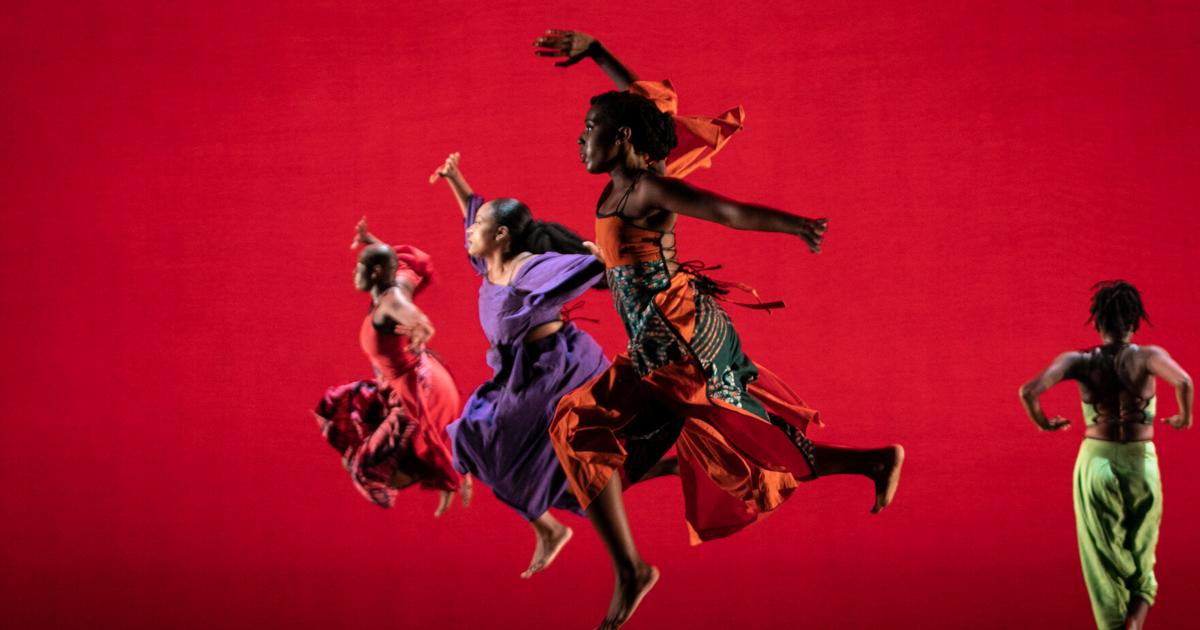 BECKET — It was a double treat to see dancer and choreographer Ronald K. Brown take the stage at the Ted Shawn Theater on Wednesday night. In 2020, Brown received the annual Jacob's Pillow Dance award, but rather than being celebrated, as award winners usually are, on the Shawn stage in front of a live audience, the honor was bestowed virtually.
A pandemic-era party was better than nothing, but now we have something, something extra special, as Brown actually took the stage (albeit lightly leaning on a cane and lightly on his partner, Arcell Cabuag); in 2021, he suffered a debilitating stroke and has since embarked on an arduous rehabilitation journey. This entrance on stage is moving, capital, but I can't wait to see Brown, a singularly fluid movement, dance again.
For now, we still have the pleasure of seeing Brown's dances, and his dancers. One of the most magical things about his company, EVIDENCE, is that although all of his dancers embody Brown's choreography – comprised of traditional African dance vocabulary accented with contemporary/modern vernacular – as if everyone were there born, none move exactly like him. . Instead, they dance as individuals: the choreography thus finds its full expression because the dancers move in their truest physical voices.
In this week's Pillow Festival schedule, the triple EVIDENCE bill opens with the long-awaited full premiere of "The Equality of Night and Day." It's a quietly stunning work of art, set to an original composition performed live by pianist and composer Jason Moran, and to recordings of speech excerpts by social activist Angela Davis. There are also images depicting historic moments of social protest, past and present, curated by Deborah Willis, projected onto fabric banners suspended above the stage.
Brown, channeling Davis, points to the brutal inequalities against black and queer communities that persist, along with the frustration and rage, but always comes back to a place of (as noted by Pillow associate curator Ali Rosa-Salas, in his welcome message before the show) truth, peace and solidarity. And love. But Brown doesn't tiptoe around brutality; he rather opposes ugliness with beauty.
There is often a sense of ritual in the staging, particularly in the stately, dark opening movement; when the dancers enter, they are both stealthy and steely, raising a high knee but then sliding through a deep plie. Although their beautiful costumes, by Omotayo Wunmi Olaiya, suggest something completely different towards the end of the play, at the beginning the flowing belted tunics over wide, billowing trousers evoke the robes of Buddhists. Here, Moran's score is stripped down, delicate, as the dancers alternate between canonical variations on brief but lush phrases of movement, and simple processions in which the group circles a dancer protectively, or flanks one or more dancers. , attentive, waiting.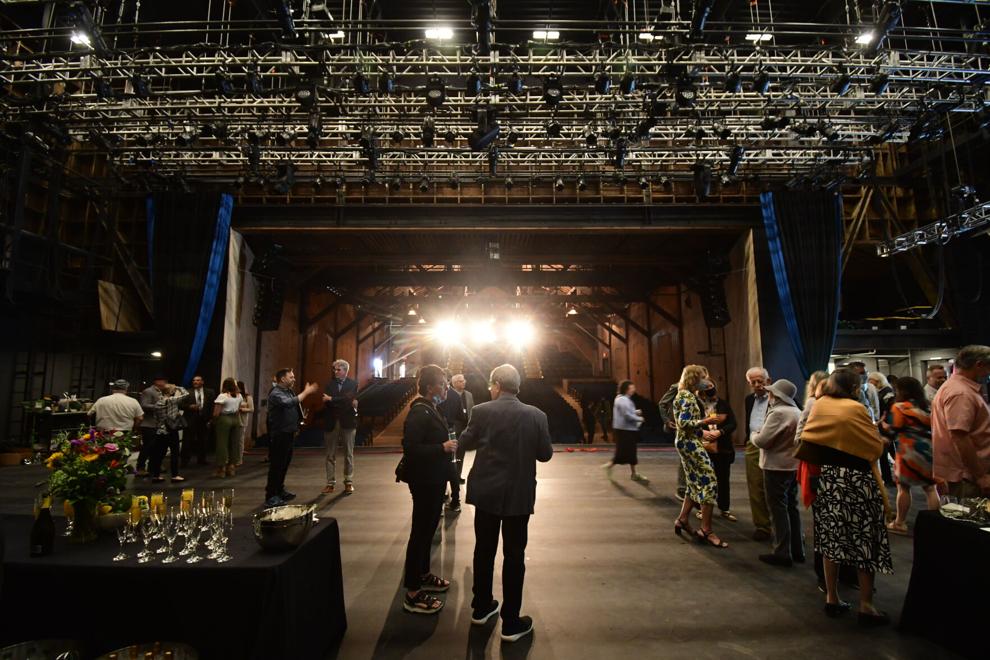 Jacob's Pillow has a lot to celebrate this summer.
Hot on the heels of its June 11 grand opening, celebrating the reopening of the renovated Ted Shawn Theater – its flagship performance space – is its 90th anniversary season, which also marks a return to indoor shows after two years of outdoor-only spaces.
Principal dance soloists Joyce Edwards and Demetrius Burns exemplify the company's remarkable range of physical expression. But the company's other excellent dancers and guest artists, who shine beautifully throughout the evening – Shayla Alayre Caldwell, Austin Warren Coats, Stephanie Chronopoulos, Daniel S. Harder, Isaiah K. Harvey, Breana Moore, Randall Riley, Christopher Salango and Shaylin D. Watson – also receive small solos here and each is performed with indelible clarity.
Edwards' epic limbs not only cut through space but seem to shift the very atmosphere; she's one of the quietest dancers I've seen and is perfectly presented here as some sort of seer/leader. Burns is by turns expansive and vulnerable; after removing his tunic (which now, following Davis' recitation of demoralizing statistics of incarceration rates among young black men, suggests prison garb), his torso is either strong, warlike, or curved, as if he was collapsing from exhaustion.
Indeed, amidst Brown's choreographic poetry are harrowing and piercing moments. A motif in which the hands of the dancers are shaking, held out to the side or in front of the face, is charged with anxiety; later, at the end of a group sentence of men, they scream behind these masked hands, the rage, the pain is shocking, palpable. Inevitable. But Brown relieves us of this mountain of grief, always hopeful, with a cathartic and metaphorical ending in which all the dancers have removed their tunics and placed them in a heap in the center.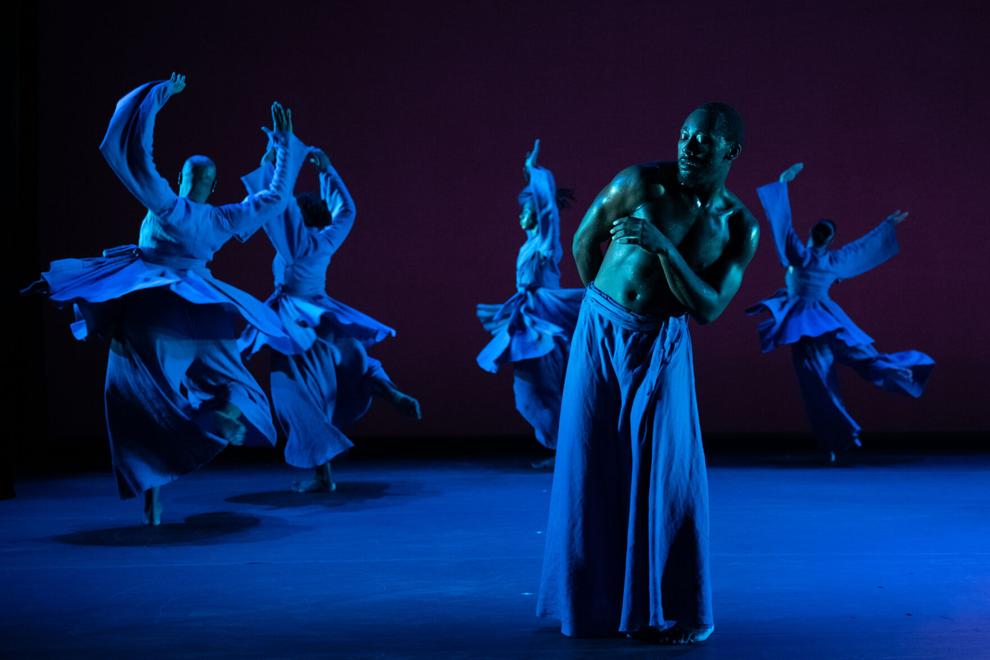 The other two works on the program, 'Upside Down' (an excerpt from 1998's dance 'Destiny') and 1999's 'Gatekeepers' feel like accompanying pieces, dynamically and thematically. Although there is context embedded within – particularly in "Gatekeepers", the title of which refers not to the contemporary phrase for those who imperiously "decide" who may participate, but rather to the beautiful myths and traditions of certain Native American and African communities – these dances are exuberant examples of some of EVIDENCE's infectious high-octane repertoire.
How can an experience be so intense and at the same time so easy? Yet this is what an EVIDENCE performance often offers, and this is what this program offers. Throughout the evening, I was struck by the seemingly incessant surge of energy, wondering how it could be sustained. But even in moments of pause or immobility, the dancers continued to emit a radiant force; their commitment to dance, to art, to Brown, to each other, to us, is tremendous and valuable. Breathtaking, vital and hopeful.
After:
Jacob's Pillow Dance Festival returns with 10 weeks of dance and 20 one-night performances only
DANCE REVIEW: 'America (na) to Me' is a 'playful and provocative' response to Ted Shawn's take on American identity