Dance Revue: And the Earth Will Swallow Them Whole, Perth Festival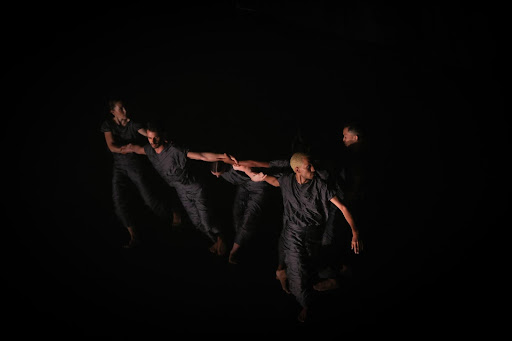 As an exploration of the dark depths and fragile limits of our world, director and choreographer Rachel Arianne Ogle's latest work (presented at the Perth Festival) is a revelation and a powerful example of what collaboration between forms of slow-burning art can accomplish.
And the earth will swallow them whole is an immersive show whose staging is more fluid than contemporary dance. The creative team includes three composers (Luke Smiles, Gabriella Smart and Alisdair Macindoe), six dancers (Linton Aberle, Imanuel Dado, Storm Helmore, Bethany Reece, Tyrone Earl Lraé Robinson and Zee Zunner), a lighting designer (Bosco Shaw) and a set designer (Bruce McKinven), who (alongside Ogle) all seem equally engaged and invested in this unique two-act experience.
That said, the director's voice and her central conception of the work – examining subterranean landscapes and ideas of earthly rituals and impermanence – are strongly felt throughout. There is ample evidence of the artist's polished and resolute vision in this most ambitious work to date.
From our vantage point, perched above the stage that overlooks it on three sides, we first see pianist and composer Gabriella Smart approach a grand piano positioned at the bottom center. As the mist swirls around her feet, she begins to play one of Beethoven's most famous solo piano works – his Sonata No. 14 in C sharp minor, Op. 27, No. 2, (widely known as his Moonlight Sonata). It's a beautiful, dark entry into the eerie landscapes that will soon unfold.
Composer Luke Smiles sits next to Smart for the duration of the work, where he manipulates his soft piano tones from his digital audio desk. Smiles, Smart and sound artist Alisdair Macindoe worked together for months to create the score for the work.
Set in different cities and in periodic shutdowns during this time, they relied on technology to swap tracks and create the final effects. Their combined efforts bring a vehemence and grandeur to the space. From a series of thunderous rumbles to intense electronic beats, the sound envelops us and guides the dancers' movements as they twist, glide and release.
Read: Review of the exhibition: Vivienne Binns, MUMA
And the dancers… As ominous creatures emerging from the earth's core, they are mesmerizing and masterful in their suspensions and formations. If only we had a better chance of seeing them move! Their group work reveals Ogle's rhythmic patterns and expert timing, as they spin through centrifugal spirals and grab each other.
The other major impressions of the work are the lighting and the decor. The lighting is stunning, and its varying states of blacks, blues, reds, and yellow-whites are perhaps the strongest element in the room. Lighting designer Bosco Shaw must have felt his dreams had come true with the scope of this project, and his choices came true.
The decor – by Bruce McKinven – is also a complete gift to the first act. Endowed with a giant silk sheet, it builds oceans of movement in a voluminous way. This feature is also entirely responsible for the magical moment that closes the first act. To say it's breathtaking is cliché, but that's honestly how I felt.
A similar, but more subtle magic also surfaces in moments when the epic forces of our planet (Earth) slide against the ideas of ancient substances beneath our feet (Earth). Are we born from these layers and destined to return to them? These questions appear in different ways in scenes that bring us closer to things beyond our conscious selves.
This work is slow – arguably too slow for some. It's also confronting, uncomfortable, gently moving and intensely beautiful. All in all, it's a refined and well-delivered achievement.
And the earth will swallow youfull hem presented by Rachel Arianne Ogle and Perth Festival
WA State Theater Center, Studio Underground
Producers: Rachel Arianne Ogle and Sam Fox
Composers: Luke Smiles, Gabriella Smart and Alisdair Macindoe
Production Manager: Mark Haslam
Costume Technician: Sheridan Savage
Lighting designer: Bosco Shaw
Scenographer: Bruce McKinven
Performers: Linton Aberle, Imanuel Dado, Storm Helmore, Bethany Reece, Tyrone Earl Lraé Robinson and Zee Zunner
And the earth will swallow them whole took place from February 10 to 14.