Dance Revue: Symbiosis, Perth FRINGE WORLD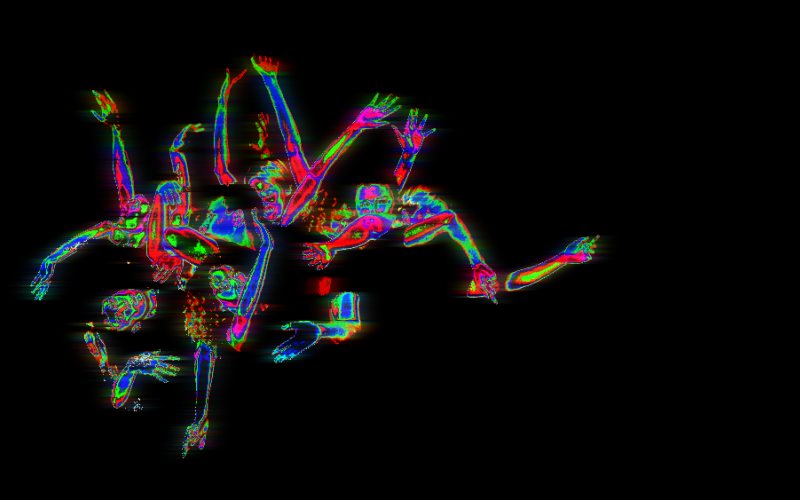 Symbiosis is an experimental foray into electronic dance culture performed by members of a new Perth-based movement collective, TriplOcate DMC (DANCE-MAKE-COLLABORATE).
TriplOcate co-founders Meg Scheffers and Sami Jane Smith collaborated with sound artist Peter McAvan and visual artist Ash Morgan to realize their vision for a multidisciplinary performance that presents club culture as performance art . The work is designed to appeal to a wide audience, including those who may not be familiar with house, techno, trance, dubstep or other forms of electronic dance music (EDM). The performance offers a glimpse of the hypnotic freedom of the dance floor discharged by electronic enchantment.
McAvan's live performance has a strong emphasis on 4 x 4 beat structure. The phrases are repetitive and relentless; a pumping synthesized bass line for most of the 40-minute performance, with some disruption by ambient sounds and mystical vocals. Sometimes the music slows down, but is never silent. The dancers' bodies are invigorated by electronic beats reminiscent of 1980s-90s raves in Germany and the United States, with repeated hits and dramatic builds reflected in the dancers' quick, jerky rhythm as their movements merge with the music. With sound shifts, bodies become moving shapes in the smoky haze and green washes of the girls' school biology room.
Read: Exhibition review: Undertow, Fremantle Arts Center
Scheffers and Smith seem comfortable with their vocabulary of electronic dance movement, occasionally interspersed with soft pauses, jazz isolations, slow-downs and stillness. Together with dancer Campbell Gateley, they create movement patterns in unison and also, as soloists sharing the same space, each lost in haunting sound. Gateley's long limbs embrace levels of height and depth, proving a contemporary dancer of tremendous strength and control.
Morgan responds to the movement of the dancers with long brushes of fluorescent paint on a square canvas attached to the wall next to the sound table. The silhouette's brushstrokes are layered in different colors, sometimes in response to a particular dancer; at other times, as a freelance artist, inscribing color as an abstract form in the haze of the dark room. The body lines are repeated in paint lines. Morgan remains impassive as she works, which has the effect of creating an emotional disconnect with other performers and audience members.
The collective is interested in activating new spaces for performances but struggled to animate the tightly constructed performance areas in the small classroom of the girls' school. Spectators squeezed against two opposite walls of the room, taking care not to exceed the adhesive tape that marked out the performance space in the center of the room. Movement and sound were limited by the tight space, with a lack of emotion on the performers' faces deterring patrons from responding as interactive participants. Perhaps a club venue where the audience could dance alongside or with the performers would better activate the space, inviting participatory social engagement while challenging the very nature of performance? Who is a participant/performer/spectator in the context of electronic dance cultures?
TriplOcate sparks interest in EDM and club culture through Symbiosis – a first production that could develop community engagement with movement experiences in the future: an exciting start!
Symbiosis
Triplocat DMC
Presented by FRINGE WORLD
Biology room, girls school, East of Perth
Artistic directors and movement artists: Meg Scheffers, Sami Jane Smith
Sound Designer: Peter McAvan
visual artist: Ash Morgan
Performers: Meg Scheffers, Sami Jane Smith, Campbell Gateley
Symbiosis was played from February 8 to 13, 2022