The brand new CN Dance Challenge shows up and makes its way to Cartoon Network!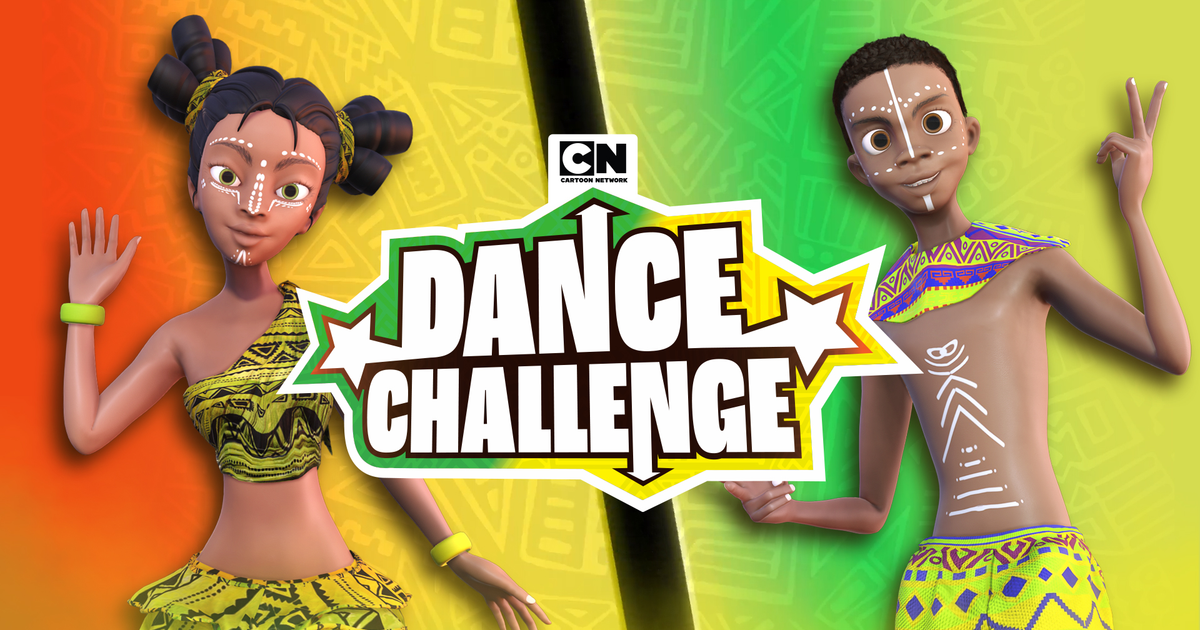 After three successful seasons of Cartoon Network Ephemeral party, this new original and exciting dance series brings together two super talented animated dance teachers, Anwuli and Kingsley.
Each week, Anwuli and Kingsley will appear on air – and on www.CartoonNetworkAfrica.com – with a new African-inspired dance routine created using an exciting mix of exclusive CN Dance Challenge music tracks that children can follow.
Each week there will also be a surprise battle with Anwuli or Kingsley and a kid who managed to dance the previous week in their own style.
With Shaku shaku, Chakara, Ngimuhle, Cat dance and many other Afro dances, viewers will have the impression of having toured the continent! Anwuli and Kingsley will stop at nothing to get everyone on their feet and give their best by joining the Cartoon Network dance team!
True to its mission of working with African creators to bring authentic, home-like content to audiences across the continent, Cartoon Network worked with the talented Nigerian director-host. Benjamin Sokomba Dahzi, popularly known as Bennydee.
Dahzi used his innovative and cutting edge motion capture techniques to bring both characters to life. "I am really delighted to have partnered with Cartoon Network on this project and I admire the brand's commitment to discovering and developing African talent," he said.
"At Cartoon Network, we are committed to connecting with our audience, and with the incredible audience response to our last three dance performances in South Africa and Kenya, we wanted to continue to show the amazing talents of African children while contributing to the development of local activities ", said Ariane Suvég Responsible for the Kids Africa, France and Israel channels.
"At the same time, we wanted to create something new and innovative. This resulted in the creation of two animated characters, notably for this new show in collaboration with a fantastic African talent from Nigeria, Benjamin Dahzi! " She adds.
Are you ready to take a few steps, dance till a storm, and wow in Cartoon Network (Dance) battle ? See you Saturday on Cartoon Network Africa, October 2 @ 09:15 CAT discover!
WarnerMedia is a leading media and entertainment company that creates and distributes premium and popular content from a wide range of talented storytellers and journalists to a global audience through its mainstream brands including: HBO, Warner Bros., TNT, TBS, CNN, DC Entertainment, New Line, Cartoon Network, Adult Swim, Turner Classic Movies and others.
About Cartoon Network Africa
Cartoon Network Africa is the fun and irreverent multiplatform entertainment brand that provides children ages 7-12 with unexpected and imaginative experiences with high quality multi-level comedy and adventure shows. Cartoon Network is Africa's favorite children's channel, the market leader in pay TV in South Africa. Reaching 12 million viewers each month, the channel was voted "Coolest Children's TV Channel" by South African youth. In addition to original Emmy-winning programming such as The Power Puff Girls and Ben 10, and new Cartoon Network originals like Craig of the Creek, Apple & Onion and Summer Camp Island, Cartoon Network embraces local productions such as Pop Up. Party and Mike and Rob. With Cartoon Network, you can expect the unexpected and laugh out loud! Cartoon Network is a trademark owned by WarnerMedia.
Cartoon Network Africa is available on DStv, channel 301, and GOtv, channel 67 (Ghana 158 and Uganda 356).