Wizkid fans excited as Drake's One Dance challenge hits TikTok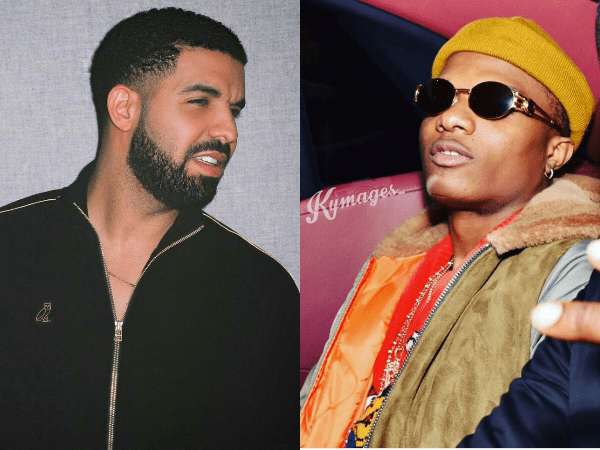 By Taiwo Okanlawon
A platinum song "One Dance" performed by Grammy Award-winning Drake with popstar Ayo Balogun, also known as Wizkid, is trending on the popular video-based social media platform , TikTok.
The song which was listed as the 6th Greatest Song of the Decade in the UK in 2019 was released in 2016, but still found its way back onto the trending list after Drake cast it on TikTok.
However, many music lovers are excited because the part of the song by Wizkid is trending on TikTok.
Wizkid is also a co-producer and co-writer of One Dance with Kyla.
A few hours after its launch on the application, "One Dance" has now exceeded 2 billion streams on Spotify. This is the fifth song to cross this milestone.
One Dance was found to be number 1 in 15 countries including the United States. The song generates millions of dollars every year. Wizkid will be paid as a featured artist, co-writer and co-producer on the song for the rest of his life.
Looks like BTS Army has launched a new challenge with Drake and Wizkid's "One Dance"pic.twitter.com/kt7A8nAb73

– Akpraise (@AkpraiseMedia) March 30, 2021
The Chinese-owned social media app, in which users create 15-second clips, usually set to music, was just behind WhatsApp in global downloads last year.
With one billion users of its international version, it has increasingly established itself as a way for unknown artists to score a hit – from Old Town Road by Lil Nas X to Say So by Doja Cat and Roxanne by Arizona Zervas – in the same way that in a TV commercial could boost an artist's sales in the pre-Internet age.
Wizkid's verse on a dance is used for a tiktok challenge
Wizkid's made in Lagos remains in global album charts for 20 weeks

Meanwhile, ABT on Best Apple US Music Albums # 1011
Please, tatibiji, take your tanks😂😭 pic.twitter.com/OTdMe5QjyW

– Josh💀🦅 (@Josh_TheMessiah) March 30, 2021
A dance is all the rage on Tik tok after 5+ years of release, which is what you get if you do things organically. https://t.co/6FSXPJ0Z5G

– Big-Oliver (@OliverHervis) March 30, 2021
I can not explain it. It seems unreal. With this One Dance shock, I hereby conclude that; By fighting the bitterness of Mr. Balo's rare Grace, trying to discredit him or downplay his accomplishments out of jealousy, you end up being highly dishonored. It doesn't matter how long it takes.

– WizkidtheGreatest 🐐 (@WizkidtheLegend) March 30, 2021
The Wizkid part is what made a dance sweet ngl …… They cut the drake verse from the dance trend. You all remember how 30BG troll wizkid pours into a dance because their MPV feeds them shekpe to forget that wizkid is magic in the studio

– MOHNICE ⚔️ (@Mohnice_) March 30, 2021
"ONE DANCE" 2 BILLION Streams !! ??

– THE BOY (@Zsauceboi) March 30, 2021
Wizkid's songs always blow twice

Now One Dance has been added to the list !!!!!

– JR ™ (@bhadboi_xx) March 30, 2021
Drake "One Dance" ft Wizkid has now surpassed 2b streams on Spotify…successful gumbody😂…make your favorite do am if e easy….lifetime assignment 😂😂

— Jeff🌓💸 (@Swagger_jeffrey) March 30, 2021
Drake's "One Dance" featuring wizkid and Kayla has surpassed 2 billion streams on Spotify!
2 billion Spotify plaque for my wiz boy, celebration that no Dey ever finished for this side, winning everyday 🤤❤️💰

– StarboyAli🇺🇸 (@ AleeMuhammed1) March 30, 2021
.@Duck, @wizkidayo and @Kylaofficial"One Dance" has now surpassed 2 billion streams on Spotify. This is the fifth song to cross this milestone.

– chart data (@chartdata) March 30, 2021